Here are some of the amazing crafts that every Indian must know about:
1. Blue Pottery from Jaipur, Rajasthan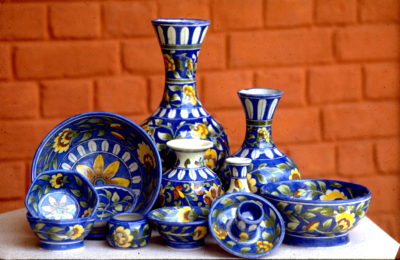 Based out of Jaipur, Rajasthan, the Persian art of Blue Pottery came to Jaipur from Persia and Afghanistan via Mughal courts. The blue pottery is glazed and low-fired. These beautiful things can be used to decorate your side tables and make an interesting conversation piece.
2. Bandhej dyeing from Gujarat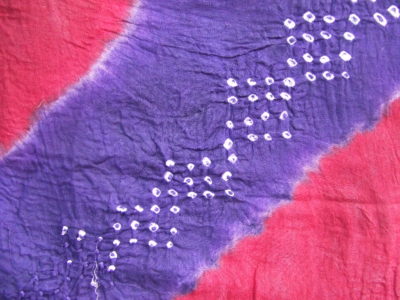 Bandhej is a collection of precious handcrafted textiles (hand woven, block-printed, tie & dye) that use eco-friendly natural fiber that showcases and celebrates the traditional culture of Gujarat & Rajasthan. One of the best choice for clothing in this summer season, it focuses mostly on pastel shades like yellow, blue and red.
Check other reads on Bandhej: Summer travels with Bandhej and 10 things you must know about Bandhej.
3. Banjara Embroidery from Bellary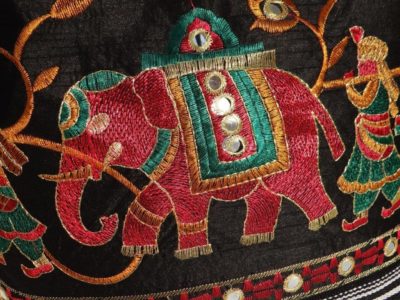 Banjara embroidery is colorful, vibrant and live. This embroidery knows no bounds in terms of creativity and design. All you need is a needle, a piece of cloth and some colorful threads. A cornucopia of designs and figures can be created using simple stitches like herringbone, chain stitch, short and long stitch. Imagine all the fashionable articles that can be made using this embroidery.
4. Pattachitra Art from Orissa, India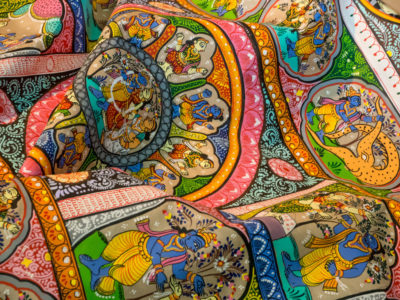 Pattachitra is an ancient folk art from eastern India whose charm lies in its effortless style of sketching, colours, lines and space usage. Through centuries, Pattachitra has been a platform, which brings together various different methods of communication. From ancient storytelling to the present age, the art of Pattachitra has traveled and it has traveled well.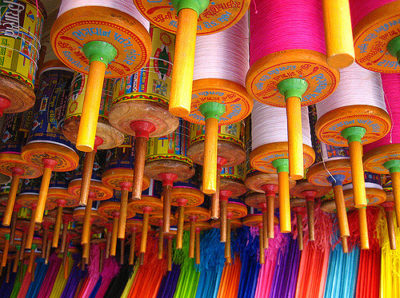 The kite making is a pretty old industry in Gujarat, as old as the tradition of kite flying itself.  The artisan craft which mostly remained unorganized and unnoticed till a few decades back has now boomed into a 700 crore cottage industry. Jamalpur, a small area in the old city of Ahmedabad is considered as a hub of kite making and is the largest kite market in India. It is a festival which heralds the beginning of summer and the end of the deary winter months.
6. Kathputli: A String Puppet Theater from Rajasthan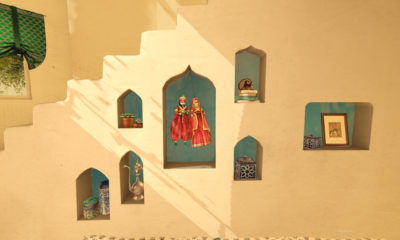 Kathputli means a puppet which is made entirely from wood. It comes from the words Kath meaning wood and Putli meaning a doll.  Due to the invasion of Rajasthan by the Mughals, Kathputli gradually lost its importance. It has been one of the oldest forms of entertainment for summer nights. 
7. Bagh Prints: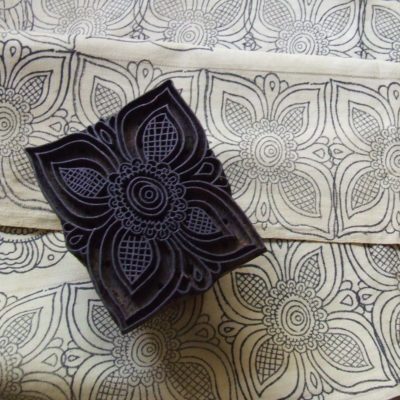 Bagh Print is a traditional hand block print with natural colours. Bagh print fabric with replicated geometric and floral compositions with vegetable colours of red and black over a white background. Weaving and hand block printing process with the geometric designs, imaginative use of red and black natural colours  and effective use of colours results in a unique art form. The process involves pre-printing, printing and post printing.
8. Terracotta works:
The word Terracotta has been derived from Latin and Italian words – 'Terra', which is Latin for 'earth' or 'soil', and 'Cotta', which is Italian for 'statue'. Thus Terracotta work is the art of creating statues/figurines from mud, clay or earth. Terracotta craftsmen concentrate equally on designer artifacts, toys, dolls, pots, vases etc.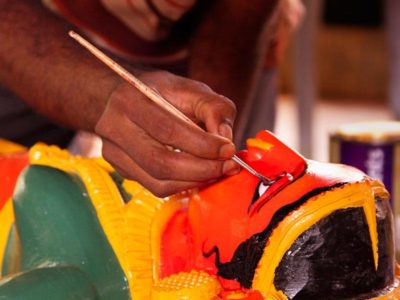 Bhoota Figures are taken or based on from the purathana kala (olden traditions) or it is on the religious beliefs (dharmika nambike) that led the people of the villages in the Karnataka state. It is a traditional art that is transferred only from the forefathers to the next generation, seen in the Basrur region of Udupi in Karnataka. Generally these figures are made in the month from January to July that are sold more in temples of Kundapura taluk, South Canara, (Dakshina Kannada) and the Udupi district. The worship of these types of idols are usually seen in the Tulu nadu regions of Karnataka.
10. Papier-Mache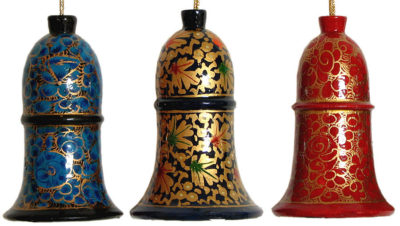 The craft of shaping and moulding products from paper pulp is practiced in several states of India, primarily due to the low costs of the raw material and tools required. While the highly sophisticated papier-mache tradition of the Kashmir Valley may be considered one end of the spectrum, other expressions in this craft technique have included spontaneous and humourous toys, masks and puppets.
11. Sandalwood Craft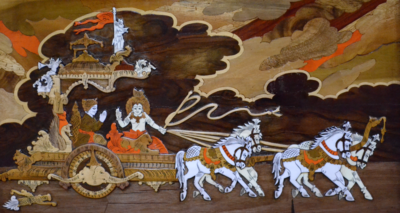 Sandal wood is of great religious importance and is an extremely expensive material for carving artifacts. Because of abundance of forests in Karnataka, it is a major craft form found there. Also, sandal wood carvers are found in Bangalore, Mysore, Shimoga, Sorab in the foothills to Sirsi, and Honavar and Kumta on the coast. Sandal wood is of two types: srigandha which is close grained and yellowish-brown in colour and used for carving and nagagandha which is darkish-brown in colour and from which oil is extracted.
12. Mizo Puan
Puans are the traditional clothing of the native people of Mizoram. There are many kinds of Puans, and each colour, motif and design has a traditional and cultural significance to the Mizos. The weaving is done by women on the loin loom and the earnings empower them financially. Worn by both men and women, puan means cloth in the native language. Production clusters in Mizoram include Serchhip district (Thenzawl), and Aizawl district(Aizawl).
13. Woollen Shawls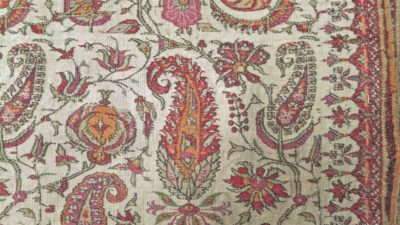 One of the more popular kind of Kashmiri shawls are Jamavars shawls which are made of brocaded woolen fabric. There is also the Pashmina shawls that are unmistakably soft and whose yarn is spun from the hair of the rare and elusive Ibex.  Although pure Pashmina is expensive, blending it with wool brings down the cost. Shahtoosh shawls are woven with the down hair of the Tibetan antelope and are renowned for their lightness, softness and warmth. It's commonly said that  a genuine Shahtoosh of any size should be easily able to pass through a finger ring.
14. Ganjapa Cards: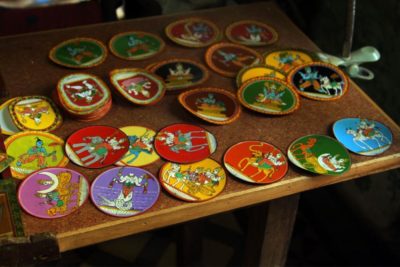 Each color in the Ganjapa card is recognizable by a unique background color. Each suit contains 10 numbered cards (1-10), a king and vizier. The king possesses the highest value followed by the vizier and then the numerical series in descending order. The king's card has a painting of him in sitting posture with legs folded at the knees (known as "chauka madi basa"), with the vizier's card with him standing.
15. Kutch Embroidery: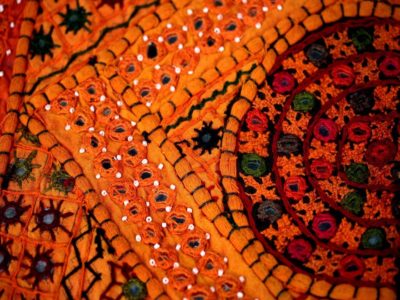 This embroidery with its rich designs has made a notable contribution to the Indian embroidery traditions. The embroidery, practiced normally by women is done on fabrics of cotton, in the form of a net using cotton or silk threads. In certain patterns, it is also crafted over silk and satin. The types of stitches adopted are square chain, double buttonhole, pattern darning, running stitch, satin and straight stitches.