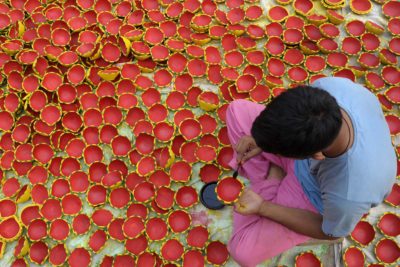 Indian craftsman paints clay 'diyas' (earthen lamps) ahead of the Hindu festival of Diwali in Amritsar Diwali, which marks the victory of good over evil and commemorates the time when Hindu God Lord Rama achieved victory over Ravana and returned to his Kingdom Ayodhya after 14 years of exile.
India is known globally for its rich heritage of Arts & Crafts. Our art does not wait for a canvas or for paints made in a factory. Rock faces and caves, a village wall, the floor, a palm leaf, a piece of wood or even the palm of a hand is space enough.
The handmade sector enjoys a special significance in the country's economy, not just in terms of employment generation but also because of earnings of foreign exchange through exports.
Indian art has been continuously spreading around the world by our handicraft products. The specialty is that they were made by hand – hand engraved, hand carved, hand painted and hand molded by masters working for years – they spent their whole life in making their art a masterpiece.
The significance of our handicrafts is not just limited to employment and revenue generation; in fact they have also reached our homes leaving us astonished with the eternal beauty of Indian culture.
So, here are few reasons why besides admiring and adoring the work of our artisans, you should bring their masterpieces down to your home and surround yourself with the beautiful designs made with immense love and affection.
Choices in abundance – E

very little corner of your house is left open for you to beautify with your own unique designs and ample handcrafted products.

Time invested in making art –

 While you were gaining appreciations from your guests who can't help but admire your vibrant and exotic choices of cushions, furniture, designer bed sheets, or curtains, there were some people behind those curtains who made them with immense detailing and concentration irrespective of the time such fine labor requires.  

Eco friendly – 

Handcrafted products don't add up to the existing pollution issues. They are environment friendly as there is no use of large manufacturing machines or chemicals.

Economical – 

When you buy handmade, you buy from the producer. You are not adding to the over flowing pockets of some big corporation. You are taking part in a process of re-using our economic model and in one that rewards hard work, talent, creativity, initiatives and personal responsibility.

Win-win situation –

 When you enrich your home with appealing and magnificent homemade goods, either it's a lamp, a wall-decorative piece, your bookshelf, a paper holder, or practically anything else, you enable those behind-the-scenes Indian artists and nourish their hard labor and creative dreams. It fosters the value of self-expression and creativity, which in turn inspires them.

Durable –

 You need not renovate your house every now and then once you have built your trust for handcrafted home decor. You can simply rely on them. They are made from high quality materials and last longer than low-quality imported mass produced items.

Personalized – 

When something is handmade, very likely the craft person is deliberate and mindful about that right stitches, right beads or using right fabric. The time you will lay on your couch with that handcrafted cushion on your back you might end up wondering about who might have been the artisan and how they managed to produce the item you are the most smitten with.

Keeps the culture alive – 

From Pashmina to Leheriya, from Kathputlis to Meenakari, Indian artisans have set such a high benchmark which can never be attained by foreign and imported goods. They are keeping the cultural and religious significance of India alive, to which the sentiments of each and every are attached to, with sheer ease and unparalleled creativity.

Spreading smiles –

When you buy handcrafted stuff, you are supporting local and small businesses and at the same time you become the person who not only recognizes the core talent of blooming Indian artists but also set a smile on their faces by buying their products and eventually generating income for them.

Eradicating unemployment –

 It provides great opportunities to explore the skills and talents. Women who are homemakers and unemployed people can spend their leisure time in learning handicraft skills to earn good amount of income.
So, before you think of emptying your pockets for that luxurious mall purchase give a thought to the unfailing efforts of our artists and be the reason for someone's happiness.
Check our range of curated products for your kitchen and dining space here.