" Creativity is intelligence having fun."

– Albert Einstein
The Warli Tribe , living in Thane, a district located in the Indian state of Maharashtra , is known for the sacred pictographs they paint on the walls of their modest huts during wedding rituals. Rice paste and straw was smeared on the walls as base and motifs inspired from their life, nature, epics, legends, local incidents and tales painted on it with a brush made of twigs. Their art also expresses an interesting aspect of their inherent philosophy than of prosperity. All their stories with its various moods and views are expressed with just two basic colors- the brown of the earth and the white of the rice paste.
Warli Art
Warli art adorns the walls of the houses, which are kitted out in rustic rural Maharashtrian furniture. All the structures are made from cow dung, fortified by bamboo and mud. This ensures that they stay cool in the summer and use minimal electricity, most of which is produced by solar panels during the day. All organic waste is either reused or dunked into a vermicompost pit that converts it into natural fertilizer.
Theme
Palaghata, the goddesses of trees and plants symbolizing creative energy, is the central theme of these paintings. Individual artists have received recognition the world over, and in recent years the medium of these paintings has transferred to paper, and cloth layered with cow-dung paste which produces the characteristic natural and dull background with the motifs painted white.
Trees, which play a crucial part in the Warli's livelihood are given careful attention in the paintings. Different varieties of trees are drawn in detail forming intricate decorative patterns. They prominently depict Tigers, Corn Fields, Peacocks, Cockroaches, Horses, Snakes, Birds, Squirrels, Monkeys and other manifestations . Personified as Hirva, nature is seen as the provider of all their requirements and Warlis identify themselves with Pardi, the hunter companion of Hirva and see themselves as protectors of nature.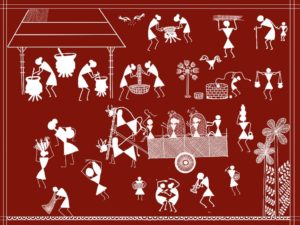 Tribal art exemplifies simplicity. It gives a glimpse of their culture, their way of life and their dexterity in taking every possible step in order to keep alive this beautiful art form gracefully. This is the simplicity of Warli which makes an immediate connect with not only the discerning art lovers but also the most naive viewers.
Click on the shop links provided below –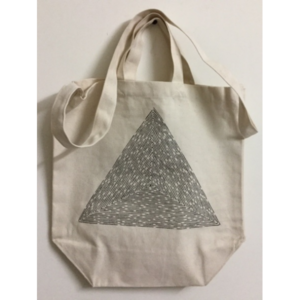 Buy some great pieces of Warli art ranging from wall paintings to cushions portraying glorifying patterns , and adorn your interiors with the nation's treasure.