" There is a distinct timelessness to Lucknow – things have changed, yet, things have stayed as they are. Lucknawis are great patrons of art ".

– Pandit Birju Maharaj , India – Moods & Memories
Lucknow – widely popular as the city of Nawabs and once, as the capital of the vast and rich dominions of the state of Awadh is an ancient keeper of the Mughal art and culture. As stated by Pandit Birju Maharaj (a leading Kathak exponent from Lucknow) in the book " India – Moods and Memories " – Lucknow has seen innumerable changes with years but the heart of the city remains the same with the legacy of its age old traditions thriving to this day, having stood the test of time and modernity.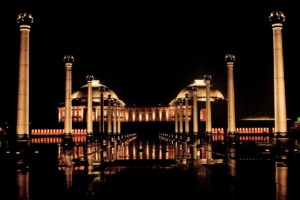 The topic of the artistic association of Lucknow with Mughals will be incomplete without speaking of the Chikankari art which appeared in Lucknow in the late 18th century and its exquisite aesthetic and craftsmanship sustained the tradition to this day, through changing patronage and market trends. Chikankari is one of the finest traditional embroideries of India, a symbol of Lucknawi culture and elegant courts of the Nawabs of Awadh.
Meaning of " Chikan "
" The magic of Chikankari or the white-on-white embroidery of Lucknow reflects the splendor of Indian craft as pure moonlight resplendent in all its beauty."

– Amrita Walia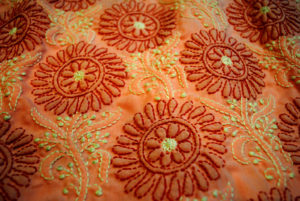 The word 'Chikan' is probably a derivative from the Persian word 'Chikin' or Chikeen which means " running thread through cloth". In all probability the word Chikan is used for the white floral embroidery that Queen Noor Jehan brought with her from Persia. The form of embroidery became very popular with the king and his nobles and they began the work of embroidery on muslin and other fine cottons in a myriad of delicate stitches. Cool summery shadow work veils were in vogue for hundreds of years.
History of Chikankari
" Lucknow chikan work is the most artistic and most delicate form of what may be called the purely indigenous needlework of India".

– George Watt
The art of Chikankari in India is about 400 years old. It is believed that this is a Persian craft, which was introduced by Noor Jehan, wife of the Mughal Emperor Jahangir. Chikankari flourished under the patronage of the rulers of Awadh.
Later when the capital of Awadh shifted to Lucknow from Faizabad, in the year 1722, the knowledge of the craft came to Lucknow. Chikankari, although it developed towards the end of the Nawabi era , is often taken to epitomize the best and ultimate refinement of Nawabi and Lucknawi Culture. Interestingly though it is considered an embodiment in the royal city of Lucknow , chikankari has its origin in the royal courts. 
Blocks of Chikankari
A chikan block is a design unit by itself, or it can be used as part of more complex and ever changeable design composition. This system allows endless and instant combinations and permutations. It is a typical feature of the chikan embroidery process and it is a very ingenious and economical method to create innumerable designs with a relatively limited collection of tools.
ARKO – A block used for borders with a design consisting of three small borders – generally the border one is in the middle.
KANTHA – The ' quarter moon block' with the shape for the typical neckline on the angarkha or on Bangala kurtas. Its name derives from kanth ( neck).
BEL is a straight, single border, more or less wide, generally placed around the front opening of a kurta.
KAT BEL is a border with a scapelled motif on one side.
KONI is a block with a painted motif which is placed at the corners of kurta.
BUTI is a block of small motifs or small flowers designs.
BUTA is a block with a large single motif.
Motifs in Chikankari
Chikankari motifs depict a strong influence of the motifs and screens ( jaalis ) present in the Taj Mahal . At present , the Taj motifs are freely used in Lucknow's chikan work and most of its glory springs from the Taj pitra dura.
Chikan then and now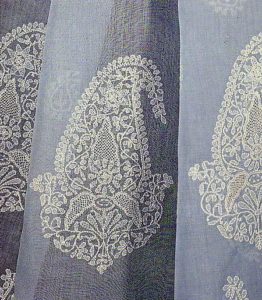 As written by Paoli Manfredi in her book " Chikankari : A Lucknawi Tradition" –   the finest Chikan embroidery would ornate the garments in subtle ways, ultimate luxury being defined not by quantity but by the flawless workmanship and inconspicuous miniature-style minimalism of the stitches. " Lightness of touch " was the essence of the elaborate Lucknawi courtesy, and we could say, of some exquisite chikan embroideries of former times. Chikan used to white on white embroidery executed with minute stitches on translucent fine cotton muslins. Quite the opposite of the aesthetic of today's chikan which favours lavishness of craftsmanship , whether grossly or very finely executed, in any color and on any kind of fabric : cotton, silk or synthetic textiles, on thin or thick weaves , on plain or printed materials. Today chikan can be bulky with the thick threads and slack and long stitches or very fine, delicate with intricate textures for few elite niche markets – in either case, Lucknawi chikan will always evoke images of insubstantial, evanescent and delicately flowered muslins.
Chikankari – Not just an embroidery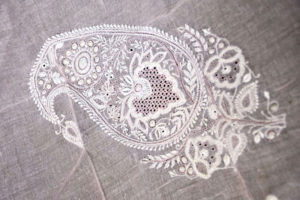 Tereza Kulkova, an anthropologist who did extensive research on this subject says that Chikan has a symbolic value of its own ; it is not just a souvenir par excellence from Lucknow , but first and foremost a materialization of the discursive representations of the city. This material thing, this embroidery, gives the city its identity and it also projects its identity onto the weaver of Chikan. Chikan is associated with wealth, style and taste, extravaganza, finesse, delicacy, but even honor, respect and power.
" Chikan is like a dragonfly's wing, its white-on-white gossamer textures reflect the light and shade of her( the artisan) life – its beauty and its fragile, transient nature."

– Laila Tyabli , CEO of Dastkar