" Painting taught literature to describe. "

– Orphan Pamuk
Indian paintings have been variously described : as layered objects in which one thing, or thought, is gently laid upon another ; like rocks, foliated and iridescent ; like a couplet in Persian or a doha in Hindi , terse but meaningful ; like a great floral carpet that lies rolled up but can be spread out endlessly, revealing new things with each mellow unfurling. Our artists have painted many such beautiful carpets upon their canvas which boasts proudly of the widespread lineage of Indian culture and tradition, and has successfully made their names acknowledged in the history of Indian Art.
Here goes the list of some of the top artists or painters India has seen :
M.F Hussain : Picasso of Indian Art

Maqbool Fida Husain was not merely the most recognizable name in Indian contemporary art. His paintings, marked by a signature style and a desire to explore the abstract through the figurative, were also the most easily identifiable.
It is estimated he did more than 10,000 paintings. It lay in his rare ability to develop a unique artistic language that was a complex fusion of the Indian visual idiom and contemporary western norms.
Best Notable Work – Horses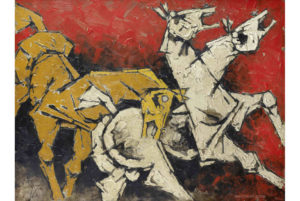 Prominent Awards : Padma Shri , Padma Bhushan , Padma Vibhushan
2. Raja Ravi Verma : Prince among Painters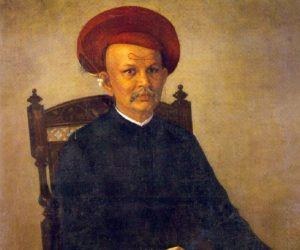 Raja Ravi Varma was the first Indian to master the technique of oil painting. He learnt the art of capturing likeness in the painting from visiting oil painting. He learnt the art of capturing likeness in the painting from visiting European artists at the court of Maharaja of Travancore. Raja Ravi Verma took India back to feudal themes , mixing the decorative attitudes of the Tanjore School of glass painting with his British Academic training, arriving at the fusion of Indian themes and the oil on canvas technique.
Best Notable Work – Shakuntala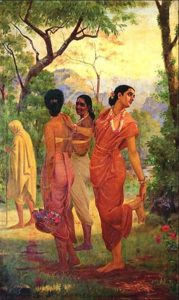 Prominent Award : Kaisar-i-Hind Gold Medal
3. Jamini Roy : One who brought emotion to Folk art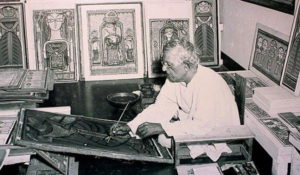 Jamini Roy bought back the glory of Indian art through Bengali folk art and used it as a medium to make his art accessible to masses by simplifying and portraying the lives of common people. He was a pupil of Abanindranath Tagore, the creator of 'Indian Society of Oriental Art'.
The quintessential 'Jamini Roy' work exhibits bold colours of red, yellow ochre, blue, and white. Roy brought versatility and emotion to folk art. While a painting of a Santhal woman oozes sensuousness, the 'Three Pujarinis' are very traditional looking almond-eyed women.
Best Notable Work – Three Pujarins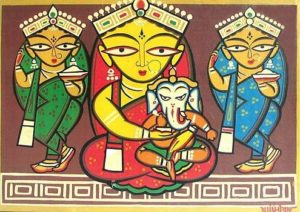 Prominent Awards : Padma Bhushan , Fellow of the Lalit Kala Academi
4. Nandlal Bose : Face of Modern Indian Art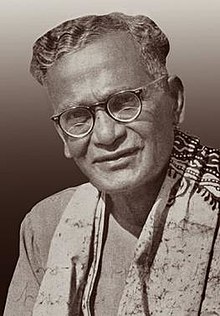 Nandlal Bose was one of the most significant artist of the 20th Century. Nandlal's works of art showcases an outstanding fusion of Bengal school and Shantiniketan. Abanindranath Tagore , being impressed by the talent of Nandlal Bose enrolled him as a student in the Government College of Art from where he got the opportunity to travel to different corners of India and study the wonderful art of ancient India. He was largely drawn towards cave art of Ajanta, the Buddhist stupa in Gaya and the temples of Mahabalipuram in the South.
Nandalal Bose also drew the emblems for the highest awards given by the Government of India such as Bharat Ratna and Padmashri.
Best Notable Work – Bapuji ( famous black and white picture, called a linocut, of the leader marching with his stick )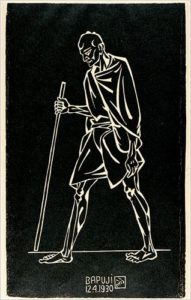 Prominent Awards : Padma Vibhushan, Fellow of the Lalit Kala Academi
5. Abanindranath Tagore : First significant artist of Modern Indian Art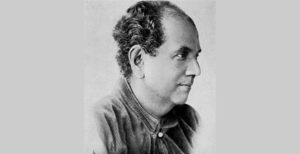 Abanindranath Tagore was the principal artist and creator of the "Indian Society of Oriental Art". He tried his hand at everything. From poetry and painting to drawing and different styles of art, to emerge a revolutionary of traditional Indian art. He was a major exponent of indigenous values in Indian art and founded the movement called Bengal school of art, which led to the development of Indian painting in the Modern Period. He developed the romantic ideal of the artists as a creative genius, placing inspiration over taught expertise, feeling over form , free of ambition for material gain.
Best Notable Work – Bharat Mata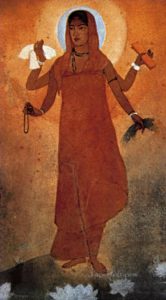 6. Amrita Sher Gill : Pioneer in Modern Indian Art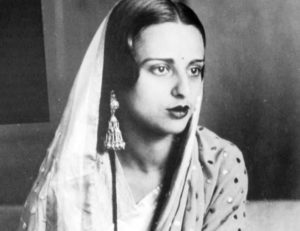 Amrita Sher Gill (30 January 1913 – 5 December 1941) was an eminent Hungarian-Indian painter. She has been called "one of the greatest avant-garde women artists of the early 20th century" and a "pioneer" in modern Indian art. She was highly inspired by the fresco paintings of Ajanta, which also had a great impact on her style and composition. Amrita Shergill was the first artist to address the need of incorporating aesthetics within the Indian sensibility in an attempt to nudge Indian art forward.
Best Notable Work – Self Portrait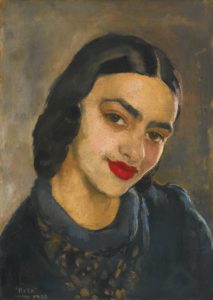 " Painting completed my life "

– Frida Kahlo
Click here to check our collection of paintings showcasing different forms of Indian Art.