The popularity of our diverse Indian culture is not just limited to the areas of customs and traditions;  it has gathered fame throughout the globe even for its heritage values. The values which reached out to the making of Indian handicrafts, and created a unique fashion statement for the people of India. It is because of our Indian artisans and craftsmen, that we know how to carry desi outfits with elan and aplomb without moving like headless chickens. Their talented hands, provide us with apparel made of super cool fabrics, making us move nonchalantly. When we talk about vibrant colors and ethnic-wear then the land of cultural imbibes and legacy, the "Rajasthan" surrounds our mind. Vivid colors and lively embroidery that reflects the charm of its people and warmth of the state have always been an innate part of the clothing culture of Rajasthan. The cuts, fabrics, colors and craft present an interesting palette to pick from. The Rajasthani costumes depict spectacular combination of cultural lineage and weather proof designs ranging from hand block prints to the classy Bandhej work (tie & die).
Bandhej, an ornament of Rajasthani culture enjoys place of pride in the realm of handicrafts. It is one of the finest arts of Rajasthan heritage, which is not only surviving but also thriving day by day. It has become the most renowned art and has got fame across the globe. The Bandhej work has contributed majorly in making Rajasthan famous.
Here are some facts to be acknowledged about Bandhej
1. Origin of Bandhej
Bandhej fabrics reign supreme in Rajasthan and Gujarat, which are home to an astounding variety of traditional crafts. Bandhej making is believed to have originated in the Kutch region some 5000 years ago and seems to have remained in production ever since. The art of Bandhej is practiced extensively in Rajasthan with Jaipur, Sikar, Jodhpur, Barmer, Udaipur and Nathdwara being the main hubs.
2. What is Bandhej?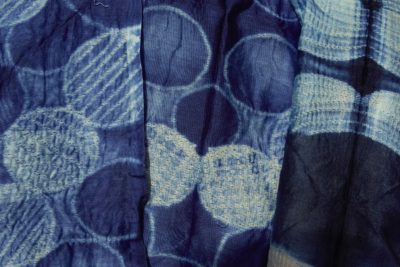 Bandhej, better known as "Bandhani" or "Bandhni", is a highly sophisticated and complex method of decoration by combining various colors. Bandhej work involves tie and die of cotton and silk pieces of cloth . The fabric is tied in complex manner with the assistance of nails and grains, to come up with enchanting prints. The main colors used in Bandhej are yellow, red, green and black. Bandhej work, after the processing is over, results into a variety of symbols including, dots, squares, waves and stripes. The result is a vibrant and irregular mix of popular color combinations like vermillion and saffron, emerald and sapphire or aqua and yellow. The most eye-catching Bandhej saris have unusual color combinations. Cotton Bandhej saris look fabulous when the border is done up with appliqué zari work. One gets to choose from a range of cotton Bandhej that comes with traditional Jodhpuri embroidery works. There are Bandhej chiffon and silk saris that are embellished in traditional embroidery or sequins. 
3. Royal grandeur as the style quotient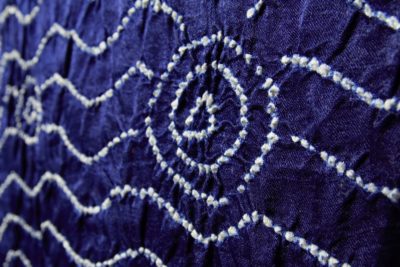 The culture of Rajasthan is highly immersed in its glorious history. We can even see snippets of its royal grandeur in villages. Rajasthan's deep rooted culture and customary background makes it one of the most scintillating states of India. The aesthetic appeal of Rajasthani costumes is much more than the graceful stone work and wise use of colors. The Principal Sari (Bandhej) is the most dominant clothing of a traditional Rajasthani woman , and the poise and resplendence, with which they carry this garment, makes them look majestic and courtly.
4. Making of Bandhej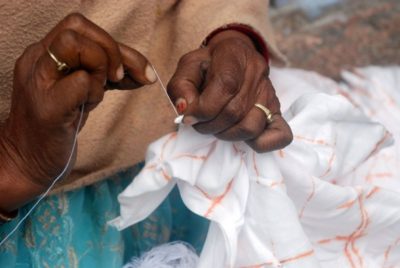 Bandhej designs are prepared and printed by veteran designers. The process of making Bandhej is mainly divided in three parts. First is designing which is followed by tying and dying. The design to be dyed is imprinted or outlined onto the fabric with the help of wooden or iron blocks using fugitive colors. Later, the cloth is sent for tying. The tier woman pulls on the marked dots of the fabric and winds thread skillfully around the protruding cloth. After tying the fabric is thoroughly washed to remove the imprint. The cloth is then dipped in the dye. Next it is rinsed thoroughly, squeezed and dried . Then tied again and dipped in a darker color. This process is repeated as per the desired outcome of pattern and colors.
5. Division of roles in making Bandhej
Bandhej involves different skills in artisan's category, tier( who ties the knots resisting colors),designer ( who chalks out the prints) and dyer( who dyes the tied cloths).Designers need to be artistic to keep pace with the changing market trends, tiers with perfection and muscular coordination of the fingers have to maintain the intricacy of design .Further dyers who, with the experience, prepare beautiful tints and shades of different colors ought to have an eye for color combination.
6. Cultural codes of Bandhej
Rajasthani Bandhej has assimilated itself in cultural codes in a way that it has become inseparable. There is a common belief in Rajasthan that 'Bandhej' sari is auspicious for brides, and hence mothers make sure to follow this legacy while they get their daughters married. Even the mothers dress up, wearing a Bandhej Sari on their daughter's wedding.
Men wear turbans that have diverse designs of 'Bandhej'; this is a customary practice, though in the earlier period this system was meant to classify the community of the wearer.
7. Plethora of designs in Bandhej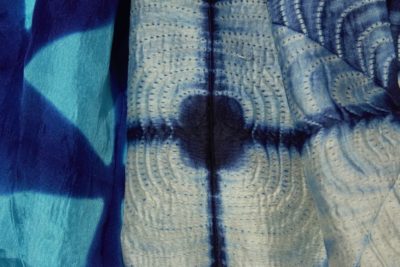 Bandhej cloth comes in a variety of designs, colors and motifs and these variations are region specific. Each district of Rajasthan has its own distinct method of designing Bandhej,which makes the pattern recognizable and gives it a different name. The most prominent designs of Bandhej are Dungar Shahi( hill shaped),Khat ka Laharia(single striped),Laddoo Jalebi( after the name of Indian sweets),Pomcha(yellow chunari),Chaubasi( in groups of four), Tikunthi( circles and squares appear in a group of three), Satbandi( in groups of seven), Ekdali ( a dot), Boond( a small dot with a dark centre) and Kodi(tear or drop shaped).
8. Making of colors
The colors which are to used for making Bandhej prints are obtained by either blending two or more colors together or by adopting technical methods for the same.  The  saffron color  is made through Keshu or Harsinger flower, maroon color is made by boiling madder wood and alum, the green color comes as a result of mixing indigo and turmeric , khaki color comes by boiling khakra leaves and yellow is prepared by boiling pomegranate in water and adding turmeric, alum and caustic soda into it.  Indigo is used as Blue color.
9. The one apprehended by everyone
Bandhej is a widely accepted textile craft and is carried by everyone  . Women from all across the nation wear Bandhej with their preferences ranging from pure silk sarees to cotton and synthetic clothes. Similarly, youngsters of the urban culture wear Bandhej t-shirts and skirts, whereas rustic folks wear Bandhej safas and chunaris. In nutshell, Bandhej is liked by all and is a popular apparel-craft which finds a significant place in one's wardrobe in the state and outside. References have been made by textile historians and authorities about this craft as a cultural wealth.
10. Global appeal
Bandhej is being sold all over India and the demand has increased over the past few decades. Sales go up during the festive and wedding seasons in India. The bulk of the market is domestic with the main market being in Gujarat.